Hello and Welcome to the God of High School Wiki
Featured Articles
Han Dae-Wi

Han Dae-Wi (한대위) also known as Mad Cow Dae-Wi is the deuteragonist of the God of High School manhwa, He was a part of the legendary duo named Mad Cows. He is a very skilled fighter and was invited to participate in the God Of High School Tournament.

Saturn

Saturn is a member of the Nox and a priest of the said organization. She wields an unknown gun National Treasure as such she is commonly a sniper. She is first shown to bea quiet person due to the fact that her mouth is always closed. As soon as her mouth is opened, she starts cursing non-stop.
External Websites
Affiliations
Contact the admins for affiliations with
The God Of High School Wiki
Featured Media
Featured Image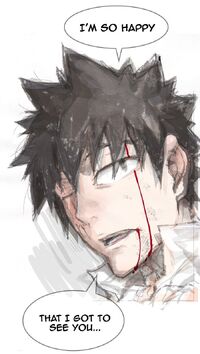 Latest Chapter
Chapter-258Chapter-258 | Chapter-257Chapter-257 | Chapter-256Chapter-256

Wiki Poll
Past poll results • Polls Archive
Which is your favourite God?
Which is your favourite Creature?
Results of Previous Poll
Which is your favourite Charyeok?
Nine-Tails Guardian = 31 (41.89%)
Haiti = 12 (16.22%)
Pandora = 5 (6.76%)
Red Dragon = 5 (6.76%)
Joker = 19 (25.68%)
Yeo-Po Bong-Seon = 1 (1.35%)
Other = 1 (1.35%)