Heal

Vital Statistics

Status
Alive
Race & Species
Human
Gender
Female

Strengths

Charyeok
None

Current Status

Occupation
Nurse
Affiliation
Park Mu-Bong

Webtoon

Debut
Chapter 28
Heal, also known as Nurse A, is one of the nurses for the G.O.H (God of High School) tournament.
Appearance
She appears to be a young woman possibly in her early twenties with short Blondish Brown hair with her eyes being the same color.
Personality
Unlike Sai, Heal is energetic and spunky. She also seems to have a crush on Han Dae-Wi.
Plot
National
World Tournament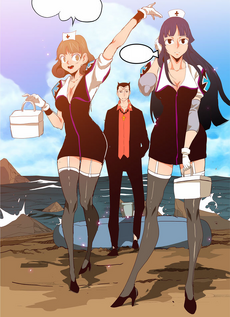 Abilities
Ad blocker interference detected!
Wikia is a free-to-use site that makes money from advertising. We have a modified experience for viewers using ad blockers

Wikia is not accessible if you've made further modifications. Remove the custom ad blocker rule(s) and the page will load as expected.